Outdoor Recreation Items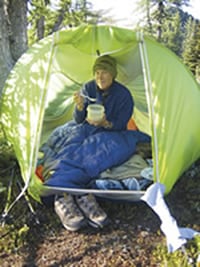 Every summertime we ferreted the inflatable pool out of the shed and set it up in the back garden in the sun. Then we filled it with water, put it in the sun and let the children play in it. The children loved it. One heard stories of children drowning in inches of water, so one always kept an eye on them. What it did do, was build a confidence in them about being in the water. They got their heads wet, went underwater and opened their eyes, and generally just enjoyed themselves.
Later this led to them wanting to learn to swim. The school provided swimming lessons, but most parents can encourage their children to swim by getting into the pool with them and showing them how, holding them, encouraging them to kick, etc, all of which builds up confidence and enjoyment.
Some children hate getting their faces wet, and dunking their whole head in the water is misery indeed. Help them to not be afraid, by encouraging them early on to enjoy the water.
After the dull days of winter, catching a bit of free Vitamin D from the sunshine in summer is another consideration. Our skin absorbs sunlight and our metabolism turns this into vitamin D, helping to build calcium in the bloodstream and so forming strong bones. (It is still recommended that you use a UV barrier cream when you are outdoors – and wear a hat as well)
There are many different types of outdoor recreational items. A lot of outdoor recreational items help children to develop their motor skills. Of course, there is also a wide variety of outdoor recreational items for people of all ages to enjoy, they are not at all limited to children.
Where can you go to enjoy yourself in summer with these items? A place to start could be 'indoorwaterparks dot net'. It is a directory of waterparks in the USA, listed by state.
There is something for everyone in outdoor recreation. From babies to grandparents. Everyone can enjoy their day out, especially if care is taken to prepare well beforehand.
Many different companies manufacturer outdoor recreational items. (Most of these are inflatables). For instance there is Poolmaster, Swimline, Sunsmart, International Leisure, Coleman, Sevylor, Excalibur, Sportstuff, Banzai and Intex. Skamper manufactures ramps for animals which help them get out of the water. Zoggs specializes in ear plugs, nose clips and goggles.